---
Nomination 2017
P'TITS MOLIERE THEATER PRICE
'Best Young Audience Show' and 'Best Scenography'
---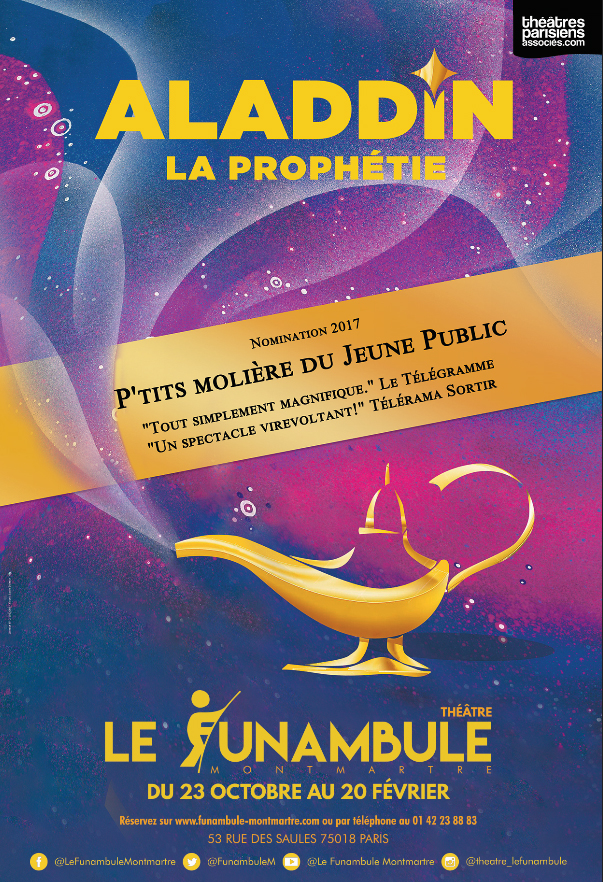 Aladdin, The Prophecy is a show written by Jonathan Dos Santos and Morgane Quiguer, combining theater, singing and combat.
It is directed by Lorelei Daize in participation with Edward Wolf or Dan Azoulay, Yann Sébile or Arnaud Moronenko, Morgane Quiguer, Pierre-André Ballande or Erwan Fouquet. The stage design were created by Louie Talents, the costumes by Sébastien Passot, the music by Guillaume Renaud and the lights by Alexandre Varette.
This show lasts for one hour and is open to all, young and old starting 5 years old.
It has been performed 100 times and over 7,000 spectators!
You may browse our page through Aladdin Teaser and see a glimpse of our video clip. You may click on the Artists page and get more information by dowloading our Press Kit.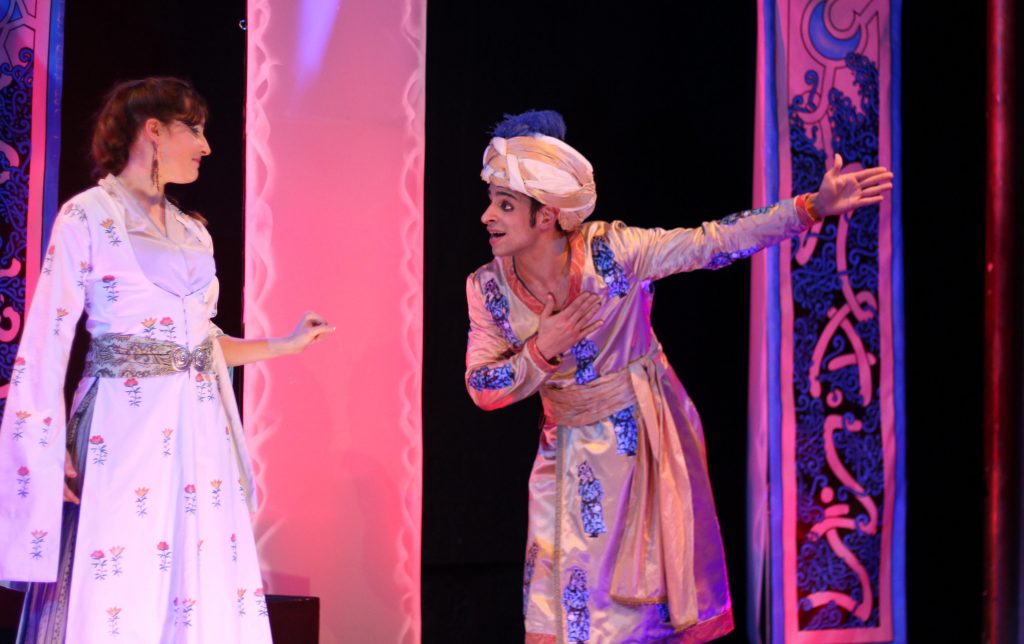 ON TOUR
2018-2019: 3rd Season
Reopening of the show at Funambule-Montmartre Theater (Paris).
On tour abroad in Dubaï with "Culture Émulsion" and in the "Institut Français" in Israël/Palestine.
And in Henri-Queffélec Theater in Gouesnou (France).
2017-2018: 2nd Season
On tour in PL Pilier-Rouge Theater in Brest (France), in Armorica Theater in Plouguerneau (France), in Keraudy Theater in Plougonvelin (France)
2017: 1st Season
Ala-é-Din was set for Cine 13 Theater (Paris).
Reopening of the show under the name Aladdin – The Prophecy at Lucernaire Theater (Paris).
RESIDENCY
Company Acte II has chosen to create this show, through artistic residency in Paris and in Bretagne-France:
November 2016
Residency in Espace Municipal in Locquirec-Bretagne.
October 2016
Residency in Espace Armorica in Plouguerneau-Bretagne.
September 2016
Residency in Espace Keraudy in Plougonvelin-Bretagne.
September 2015 – June 2016
Residency in Centre d'animation de la Poterne des Peupliers, Paris 13.