Actress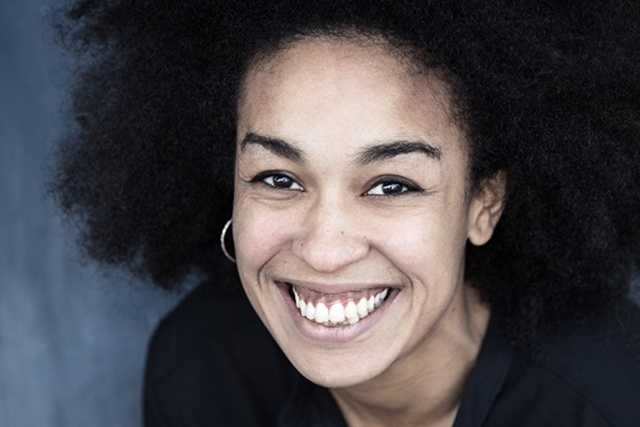 In 2006, Marina Monmirel entered Jean Périmony School of Theatre.
From 2007, she played in several classical and contemporary repertoire, one of which is the first young audience show of Compagnie Acte II: Peter Pan.
In 2013, she pursue a workshop at TNB school in Rennes, under the supervision of Eric Lacascade and his team, of which she met and collaborated with Arnaud Churin on theatrical performances. During this workshop she also met Chloé Maniscalco and Laure Catherin, students from class VIII of the TNB school and creators of the company LaDude,
with whom she has been collaborating since 2016 on two theatrical projects: JOIE – collective work – and Histoires D'Hommes written by Xavier Durringer.
To further explore her art, she also did a lot of workshops along with Sébastien Bonnabel, Cyril Casmèze, Alexia Saurat and develop her singing at the ACP Manufacture Chanson.
Since 2014 she has been participating in Séna: a unique form combining debate and readings, initiated by Gerty Dambury on Caribbean literature.
She then multiplies reading experiences with Marianne Epin, Astrid Bayiha, and in 2017 with Caroline Girard of Company La Liseuse with whom she works on reading Passes Noires written by G. Calaciura.
Since 2016, she has collaborated with Patrice Douchet and the Théâtre de La Tête Noire in Orlean for the show Ah Ernesto! inspired by the text of Marguerite Duras.
In 2018, she worked on reading contemporary texts for the Text'Avril festival and played in two feminist theatrical plays: Acide Lucide written and directed by Loren Troubat and La Radio des Bonnes Nouvelles written and directed by Gerty Dambury, presented in Guadeloupe, Martinique, Guyana, and eventually in Paris at the Fgo Barbara Center and at Tarmac.
In 2019, she participated in the 6th edition of the Lyncéus Festival of Binic with the show Andromède, written and directed by Antonin Bonnet-Fadinard.
In 2020, she commits for the first time on a poetic performance project, which she created with Marie-Julie Chalu, around the poems Kiyémis A nos humanités Révoltées.
In addition to her theatrical activities, she works for in cinema with the directors: Antoine Delelis, Lucie Ternisien and Jean-Pierre Mocky.
She also practices African dance, salsa, rock and Yoga.
Since 2012, she plays Bagheera in the acclaimed theater play The Jungle Book in collaboration with Company Acte II at Essaïon Theater, Gymnase Marie-Bell Theater, Lucernaire Theater and on tour in France and India.
Website – www.marinamonmirel.com
Mail – m.monmirel@yahoo.fr